Slimmer Bezel & Depth
The thinner bezel & depth allows a perfect fit for a sleek look
Detachable Logo
The detachable logo allows for installation in the desired orientation in landscape or portrait mode.
Cable Management
The well-organized cable terminals in the back optimize available space.
Built-in IR Receiver
This receiver is very space efficient with features that are detachable and adjustable to suit your environment.
Dust & Humidity Protection
Circuit board reliability is enhanced with conformal coating that protects against dust, iron powder, humidity and other harsh conditions.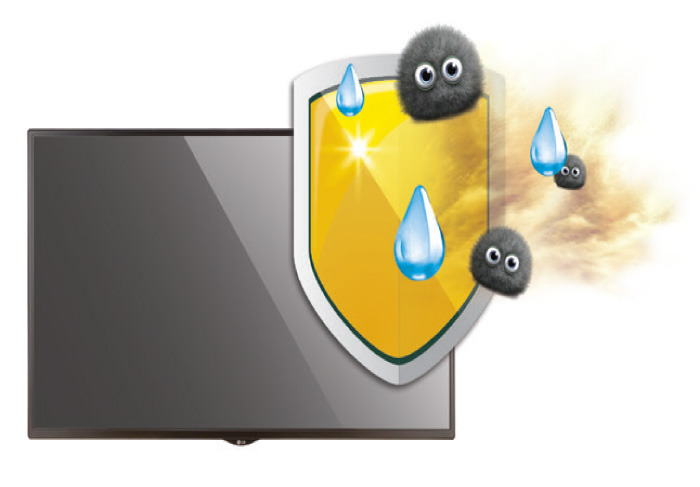 Advanced Failover
Enables content in the internal or external memory to be displayed without dead spots when none of the external inputs is working. The monitor performs the signal switching automatically.
Screen Fault Detection
Detects screen failure and sends an alert email via SuperSign C SW or monitor itself.
Sync Mode
With time sync setting, signage displays in a DMB group can display content at the same time frame. And all the signage displays set as slave adjust content starting time to master's starting time with content sync setting.
Dimension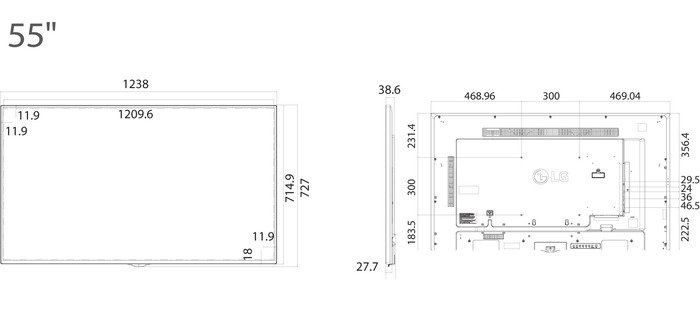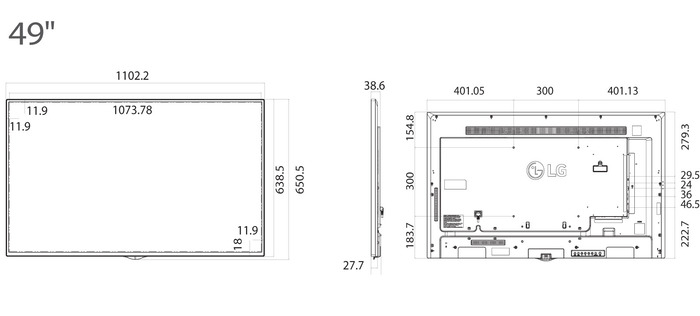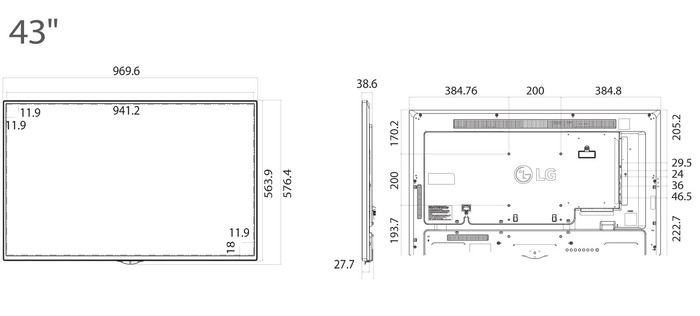 Connectivity
CNTech là nhà phân phối màn hình quảng cáo uy tín, chất lượng tại thị trường Việt Nam. Với nhiều năm kinh nghiệm trong lĩnh vực cùng với đội ngũ nhân viên tư vấn, kỹ thuật được đào tạo và huấn luyện tốt chắc chắn sẽ mang đến cho bạn một sự trải nghiệm về phong cách phục vụ chuyên nghiệp và tận tình nhất.
CNTech Digital Signage Solution
Liên hệ với chúng tôi để nhận được hỗ trợ nhanh và tốt nhất: 0909 39 29 38
Email: sales@cntech.com.vn
Panel

43SM3B

49SM3B

55SM3B

Screen Size

43 Inch

49 Inch

55 Inch

Panel Technology

IPS
IPS
IPS

Aspect Ratio

16:9
16:9
16:9

Native Resolution

1,920 x 1,080 (FHD)

1,920 x 1,080 (FHD)

1,920 x 1,080 (FHD)

Brightness(Typ., cd/m²)

350 nit

350 nit

350 nit

Contrast Ratio

1,100:1
1,100:1
1,100:1

Dynamic CR

2,000,000:1
2,000,000:1

2,000,000:1

Viewing Angle (H x V)

178 x 178
178 x 178
178 x 178

Response Time

12 ms (G to G BW), 9.0 ms
12 ms (G to G BW), 9.0 ms
12 ms (G to G BW), 9.0 ms

Surface Treatment (Haze)

Hard Coating (3H), Anti-glare Treatment of
the Front Polarizer (Haze 1% (Typ.)
Hard Coating (3H), Anti-glare Treatment of
the Front Polarizer (Haze 1% (Typ.)
Hard Coating (3H), Anti-glare Treatment of
the Front Polarizer (Haze 1% (Typ.)

Life Time (Typ.)

50,000 Hrs
50,000 Hrs
50,000 Hrs

Guaranteed Operating Hours

18 Hrs
18 Hrs
18 Hrs

Orientation

Landscape & Portrait

Landscape & Portrait

Landscape & Portrait

Connectivity

Input

HDMI, DP, DVI-D, RGB, Audio, USB, SD card

HDMI, DP, DVI-D, RGB, Audio, USB, SD card

HDMI, DP, DVI-D, RGB, Audio, USB, SD card

Output

DP, Audio, External Speaker

DP, Audio, External Speaker

DP, Audio, External Speaker

External Control

RS232C (In/Out), RJ45, IR Receiver, Pixel Sensor

RS232C (In/Out), RJ45, IR Receiver, Pixel Sensor

RS232C (In/Out), RJ45, IR Receiver, Pixel Sensor

Physical Specification

Bezel Color

Black
Black
Black

Bezel Width

11.9 mm (T/R/L), 18 mm (B)

11.9 mm (T/R/L), 18 mm (B)

11.9 mm (T/R/L), 18 mm (B)

Monitor Dimension (W x H x D)

969.6 x 563.9 x 38.6 mm

1,102.2 x 638.5 x 38.6 mm

1,238 x 714.9 x 38.6 mm

Weight (Head)

9.8 Kg

14.1 Kg

17.3 Kg

Carton Dimensions (W x H x D)

1,052 x 650 x 123 mm

1,197 x 760 x 166 mm

1,330 x 807 x 170 mm

Packed Weight

12.4 Kg

17.2 Kg

21.5 Kg

Monitor with Optional Stand Dimensions

969.6 x 622.2 x 193 mm

1102.2 x 696.8 x 219.6 mm

1,238m x 773.4 x 219.6 mm

Weight (Head+Stand)

12.5 Kg

17.6 Kg

20.8 Kg

VESA™ Standard Mount Interface

200 x 200 mm

300 x 300 mm

300 x 000 mm

Environment Conditions

Operation Temperature

0°C to 40°C

0°C to 40°C

0°C to 40°C

Operation Humidity

10 % to 80 %

10 % to 80 %

10 % to 80 %

Power Consumption

Power Supply

100-240V~, 50/60Hz

100-240V~, 50/60Hz

100-240V~, 50/60Hz

Power Type

Built-In Power

Built-In Power

Built-In Power

Typ.

60W

70W

80W

Standard (Certification)

Safety

UL / cUL / CB / TUV / KC

UL / cUL / CB / TUV / KC

UL / cUL / CB / TUV / KC

EMC

FCC Class "A" / CE / KCC

FCC Class "A" / CE / KCC

FCC Class "A" / CE / KCC

ErP / Energy Star

NA/ Yes (Energy Star 6.0)

NA / Yes (Energy Star 6.0)

NA / Yes (Energy Star 6.0)

Media Player Compatibility

OPS type compatible

Yes

Yes

Yes

External Media player Attatchable

Yes (MP500 / MP700)

Yes (MP500 / MP700)

(MP500 / MP700)

Accessory

Basic

Remote controller, Power cable,
DP cable, IR receiver,
RS-232C cable, Tiling guide, Screw

Remote controller, Power cable,
DP cable, IR receiver,
RS-232C cable, Tiling guide, Screw

Remote controller, Power cable,
DP cable, IR receiver,
RS-232C cable, Tiling guide, Screw

Optional

WM-L640V (Landscape),
WM-P640V (Portrait),
Frame kit (Horizontal: FK-55V10 / Vertical: FK-55V20)

WM-L640V (Landscape),
WM-P640V (Portrait),
Frame kit (Horizontal: FK-55V10 / Vertical: FK-55V20)

WM-L640V (Landscape),
WM-P640V (Portrait),
Frame kit (Horizontal: FK-55V10 / Vertical: FK-55V20)