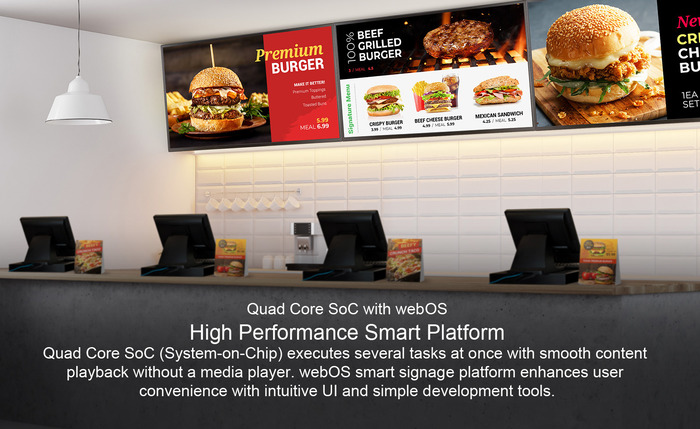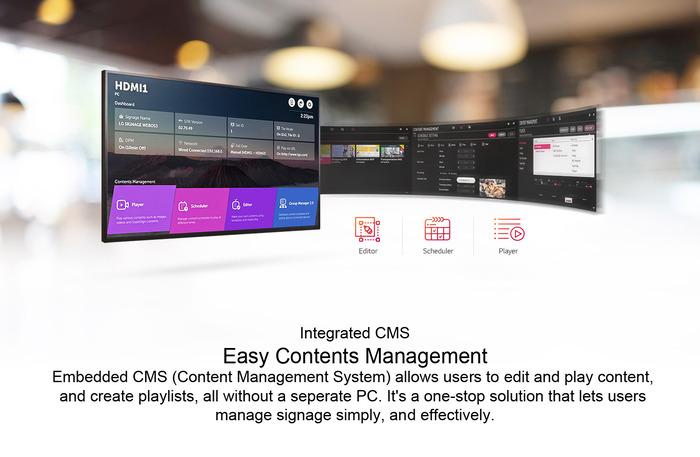 Simple Set-up & Customization
The LG webOS smart signage platform supports HTML5 as a web-based platform and offers SDK (Software Development Kit), so SIs can easily build and execute their own apps. Also, it is easy to use with intuitive menu and usable without instructions, as all of signage-related functions can be indexed in one menu.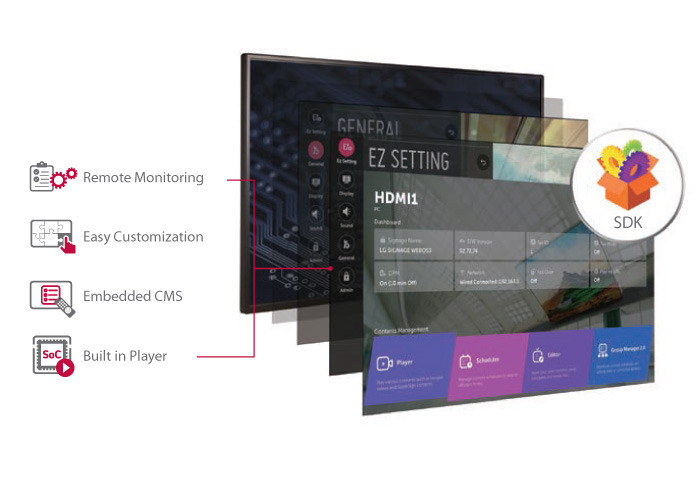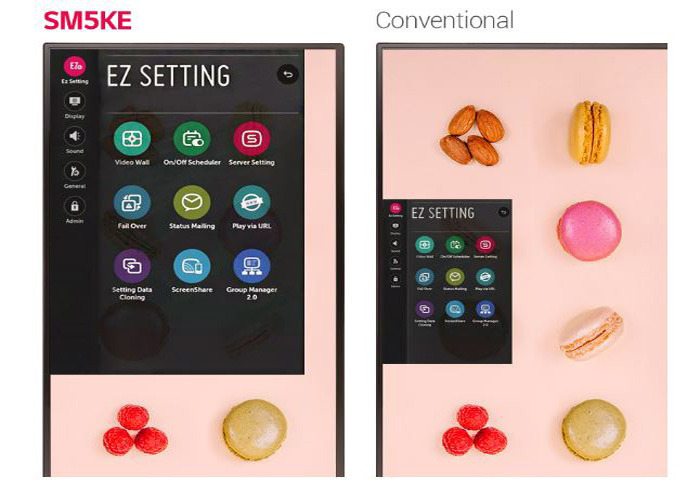 Video Streaming
SM5KE series can play real-time streaming content by supporting various types of IP video streaming protocols such as RTSP/RTP/HLS and UDP Multicast*. It makes users feel easy to manage content as it is free from capacity limits for content playback, and provides live broadcasts in real time.
Multi Screen Mode
PBP (Picture-By-Picture) and PIP (Picture-In-Picture) enables up to two divided split screens in landscape or portrait display format enabling users to more flexibly allocate space for each content source.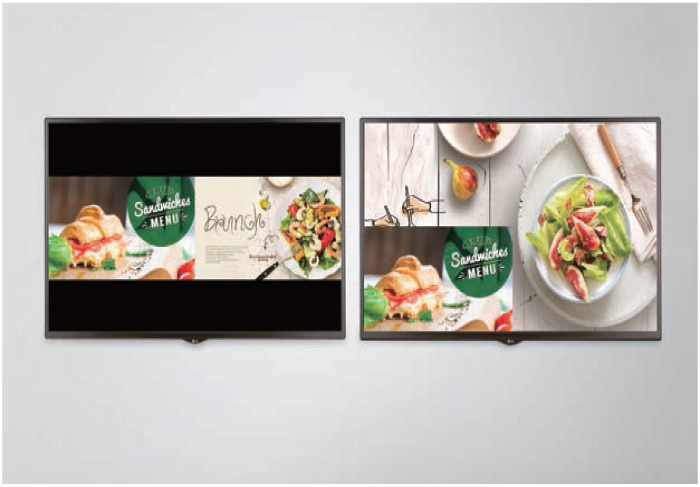 Wireless Solutions
Content Sharing Mirroring among devices is more convenient on a Wi-Fi network.
Real-time Promotion With Beacon and Bluetooth Low Energy (BLE), retail stores can provide coupons and information in real-time.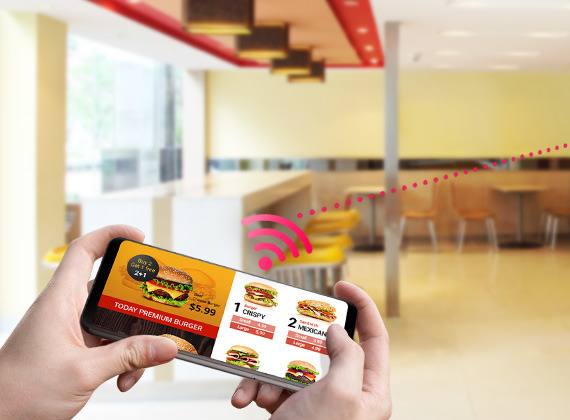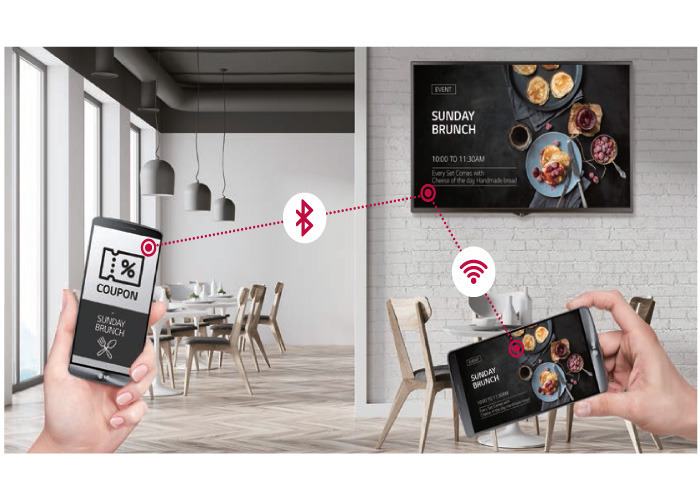 Quick Web Access via Proxy Server
Web access speed and security can be improved by supporting proxy server. Managers can not only block unwanted websites, but also quickly access to resources using caches.
Secured Network Communication
HTTPS* protocol support ensures secure communication between clients and servers. Content or documents using HTTPS can be shared and displayed on digital signages, so owners can protect their critical business assets from unwelcome pirates.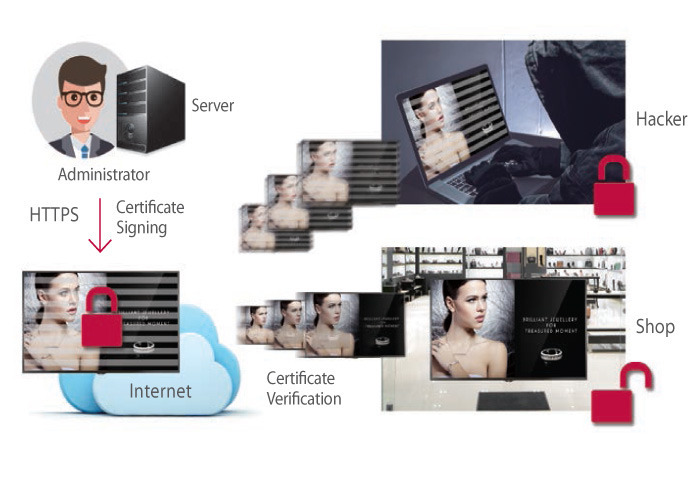 Conformal Coating
The product can be often unavoidably exposed to dust and water during maintenance. Conformal coating on power board eliminates such troubles by protecting it against dust, iron powder, humidity, etc.
Dimension

Connectivity
CNTech là nhà phân phối màn hình quảng cáo uy tín, chất lượng tại thị trường Việt Nam. Với nhiều năm kinh nghiệm trong lĩnh vực cùng với đội ngũ nhân viên tư vấn, kỹ thuật được đào tạo và huấn luyện tốt chắc chắn sẽ mang đến cho bạn một sự trải nghiệm về phong cách phục vụ chuyên nghiệp và tận tình nhất.
CNTech Digital Signage Solution
Liên hệ với chúng tôi để nhận được hỗ trợ nhanh và tốt nhất: 0909 39 29 38
Email: sales@cntech.com.vn
Panel

32SM5KE

43SM5KE

49SM5KE

55SM5KE

Screen Size

32 inch

43 Inch

49 Inch

55 Inch

Panel Technology

IPS
IPS
IPS
IPS

Aspect Ratio

16:9
16:9
16:9
16:9

Native Resolution

1,920 x 1,080 (FHD)

1,920 x 1,080 (FHD)

1,920 x 1,080 (FHD)

1,920 x 1,080 (FHD)

Brightness(Typ., cd/m²)

450 nit

450 nit

450 nit

450 nit

Contrast Ratio

1,100:1
1,100:1
1,100:1
1,100:1

Viewing Angle (H x V)

178 x 178
178 x 178
178 x 178
178 x 178

Response Time

12 ms (G to G BW), 9.0 ms
12 ms (G to G BW), 9.0 ms
12 ms (G to G BW), 9.0 ms
12 ms (G to G BW), 9.0 ms

Surface Treatment (Haze)

Hard Coating (3H), Anti-glare Treatment of
the Front Polarizer (Haze 1% (Typ.)
Hard Coating (3H), Anti-glare Treatment of
the Front Polarizer (Haze 1% (Typ.)
Hard Coating (3H), Anti-glare Treatment of
the Front Polarizer (Haze 1% (Typ.)
Hard Coating (3H), Anti-glare Treatment of
the Front Polarizer (Haze 1% (Typ.)

Life Time (Typ.)

50,000 Hrs
50,000 Hrs
50,000 Hrs
50,000 Hrs

Guaranteed Operating Hours

18 Hrs
18 Hrs
18 Hrs
18 Hrs

Orientation

Landscape & Portrait

Landscape & Portrait

Landscape & Portrait

Landscape & Portrait

Connectivity

Input

HDMI (3), DP, DVI-D, Audio, USB 3.0

HDMI (3), DP, DVI-D, Audio, USB 3.0

HDMI (3), DP, DVI-D, Audio, USB 3.0

HDMI (3), DP, DVI-D, Audio, USB 3.0

Output

DP (SST), Audio(Off/Fixed/Variable)

DP (SST), Audio(Off/Fixed/Variable)

DP (SST), Audio(Off/Fixed/Variable)

DP (SST), Audio(Off/Fixed/Variable)

External Control

RS232C In/Out, RJ45 In, IR Receiver In

RS232C In/Out, RJ45 In, IR Receiver In

RS232C In/Out, RJ45 In, IR Receiver In

RS232C In/Out, RJ45 In, IR Receiver In

Physical Specification

Bezel Color

Black
Black
Black
Black

Bezel Width

13 mm (T/R/L), 18 mm (B)

11.9 mm (T/R/L), 18 mm (B)

11.9 mm (T/R/L), 18 mm (B)

11.9 mm (T/R/L), 18 mm (B)

Monitor Dimension (W x H x D)

729.4 x 428.9 x 55.5 mm

969.6 x 563.9 x 54 mm

1,102.2 x 638.5 x 54 mm

1,238 x 714.9 x 54 mm

Weight (Head)

5.4 kg

10.0 Kg

14.3 Kg

17.5 Kg

Carton Dimensions (W x H x D)

810 x 510 x 132 mm

1,052 x 650 x 123 mm

1,197 x 760 x 166 mm

1,330 x 807 x 170 mm

Packed Weight

6.7 kg

12.6 Kg

17.4 Kg

21.7 Kg

Monitor with Optional Stand Dimensions

729.4 x 481 x 154.2 mm

969.6 x 622.2 x 193 mm

1102.2 x 696.8 x 219.6 mm

1,238m x 773.4 x 219.6 mm

Weight (Head+Stand)

6.2 Kg

12.5 Kg

17.6 Kg

20.8 Kg

VESA™ Standard Mount Interface

200 x 200 mm

200 x 200 mm

300 x 300 mm

300 x 300 mm

Environment Conditions

Operation Temperature

0°C to 40°C

0°C to 40°C

0°C to 40°C

0°C to 40°C

Operation Humidity

10 % to 80 %

10 % to 80 %

10 % to 80 %

10 % to 80 %

Power Consumption

Power Supply

100-240V~, 50/60Hz

100-240V~, 50/60Hz

100-240V~, 50/60Hz

100-240V~, 50/60Hz

Power Type

Built-In Power

Built-In Power

Built-In Power

Built-In Power

Typ. / Max

60W / 85W

75W / 95W

85W / 105W

100W / 115W

Sound

Speaker

20 W (10 W x 2)

20 W (10 W x 2)

20 W (10 W x 2)

20 W (10 W x 2)

Standard (Certification)

Safety

IEC 60950-1 / EN 60950-1 / UL 60950-1

IEC 60950-1 / EN 60950-1 / UL 60950-1

IEC 60950-1 / EN 60950-1 / UL 60950-1

IEC 60950-1 / EN 60950-1 / UL 60950-1

EMC

FCC Class "A" / CE / KCC

FCC Class "A" / CE / KCC

FCC Class "A" / CE / KCC

FCC Class "A" / CE / KCC

ErP / Energy Star

Yes / Yes (Energy Star 7.0)

Yes / Yes (Energy Star 7.0)

Yes / Yes (Energy Star 7.0)

Yes / Yes (Energy Star 7.0)

Media Player Compatibility

OPS type compatible

Yes

Yes

Yes

Yes

External Media player Attatchable

Yes (MP500 / MP700)

Yes (MP500 / MP700)

Yes (MP500 / MP700)

(MP500 / MP700)

Accessory

Basic

Remote controller, Power cable,
DP cable, IR receiver,
RS-232C cable, Tiling guide, Screw

Remote controller, Power cable,
DP cable, IR receiver,
RS-232C cable, Tiling guide, Screw

Remote controller, Power cable,
DP cable, IR receiver,
RS-232C cable, Tiling guide, Screw

Remote controller, Power cable,
DP cable, IR receiver,
RS-232C cable, Tiling guide, Screw

Optional

WM-L640V (Landscape),
WM-P640V (Portrait),
Frame kit (Horizontal: FK-55V10 / Vertical: FK-55V20)

WM-L640V (Landscape),
WM-P640V (Portrait),
Frame kit (Horizontal: FK-55V10 / Vertical: FK-55V20)

WM-L640V (Landscape),
WM-P640V (Portrait),
Frame kit (Horizontal: FK-55V10 / Vertical: FK-55V20)

WM-L640V (Landscape),
WM-P640V (Portrait),
Frame kit (Horizontal: FK-55V10 / Vertical: FK-55V20)