Superior Picture Quality
True Color, Immersive View : The UH5E series is large enough to display content and get undivided attention from various viewers. LG IPS panel features a wide range of angle to deliver clear content regardless of the position of viewers. Each pixel in the IPS panel reproduces image colors true-to-life, without distortion.
Vivid Color Details with Ultra HD: The UHD resolution allows users to view details even when zooming in on the display, with four times higher definition than FHD. The UH5E ensures stable UHD video playback with HEVC(High Efficiency Video Coding).
Easy Content Management
The embedded CMS(Content Management System) allows you to create and edit content using internal/external sources as well as set playlists to play at the desired schedule without the need for a separate PC. Thanks to the intuitive GUI and a menu structure based on usage scenarios, content management has been made much easier
Simple Group Management
The embedded Group Manager makes a master display work as a server and manage other displays connected on the same network. This way you can group and control multiple displays in your place of business and distribute playlists to them all at once, using input devices such as a remote control.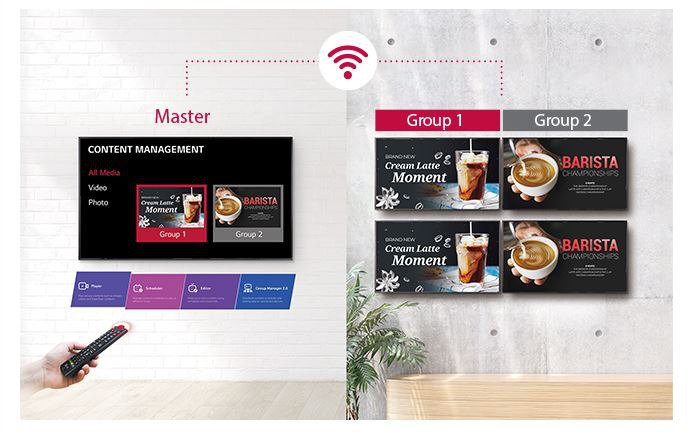 Various Sensor Applications
LG webOS smart signage platform easily supports connections with external sensors such as GPIO, NFC/RFID, temperature sensors, etc. via USB plug-in. The overall cost of ownership is reduced as there's no need to purchase additional software or media players for creating value-added solutions.
Multi Screen Mode
PBP features multi screen in a single display with upto 4 input sources while PIP(Picture-In-Picture) supports playing both main screen and sub screen at the same time with various layouts. This gives great flexibility to allocate space for each content souce.
Real-Time Monitoring & Control
Through the Control Manager, the embedded web monitoring solution, you can control and monitor the status of multiple displays in different locations in realtime. It is available on internet-connected devices, allowing you to flexibly and rapidly respond to emergency situations anywhere.
Wireless Solution
Content Sharing: Content Mirroring among devices is more convenient on a Wi-Fi network.
Real-time Promotion: Shop managers can provide coupons and information in real-time.
Wireless Access Point
The UH5E series operates as a virtual router which can be an wireless access point for mobile devices.
Compatibility with AV Control System
The UH5E series has been certified Crestron ConnectedⓇ for a higher level of compatibility with professional AV controls to achieve seamless integration and automated control1), boosting business management efficiency.
Compatibility with Video Conference System
For the optimum visual meeting, the UH5E has certified its compatibility with Cisco Spark Room Kits, a system that offers powerful and integrated control for a smarter video conference, eliminating a waste of time to set up the picture quality or to change input on incoming calls.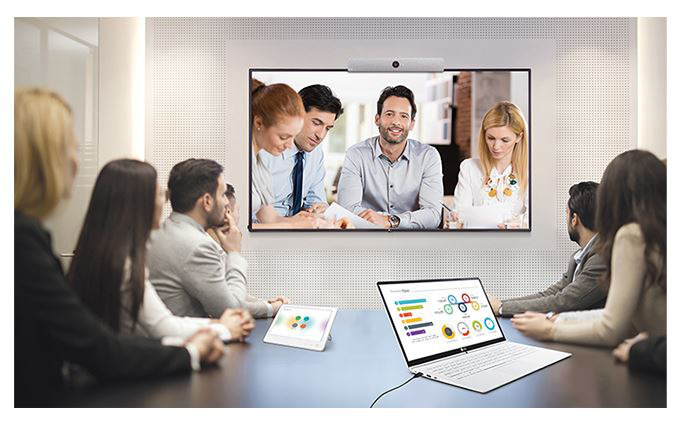 Slim and Tidy in Appearance
Although UH5E series is a large-sized display, the product still has a slim depth, a feature that allows easy installation by using less space. An immersive view is attained while maintaining a sleek look.
Detachable Logo & Built-in Speaker
The detachable logo allows for installation in the desired orientation in landscape or portrait mode, making it easy for the user to arrange the signage. Also, sounds can be played from built-in speakers, giving advertisements greater impact.
Dimension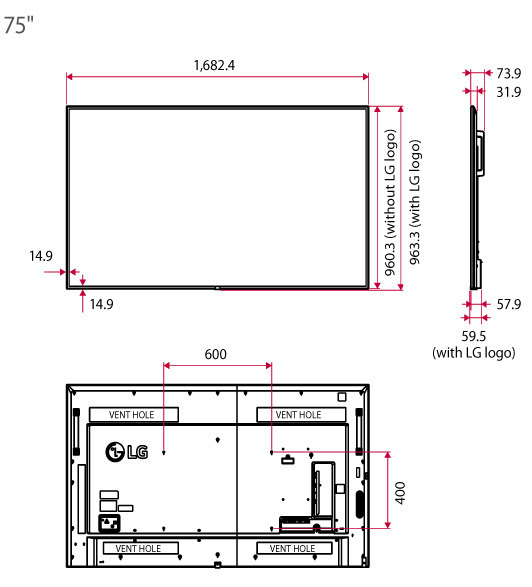 Connectivity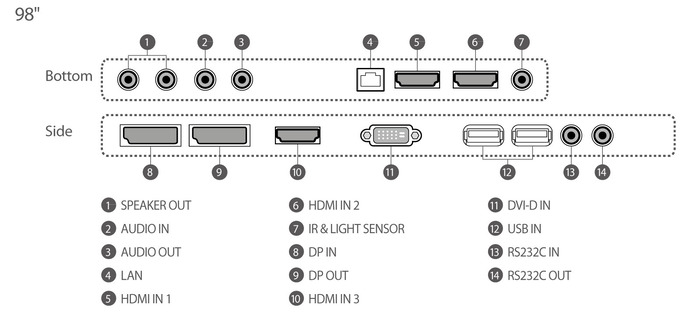 CNTech là nhà phân phối màn hình quảng cáo uy tín, chất lượng tại thị trường Việt Nam. Với nhiều năm kinh nghiệm trong lĩnh vực cùng với đội ngũ nhân viên tư vấn, kỹ thuật được đào tạo và huấn luyện tốt chắc chắn sẽ mang đến cho bạn một sự trải nghiệm về phong cách phục vụ chuyên nghiệp và tận tình nhất.
CNTech Digital Signage Solution
Liên hệ với chúng tôi để nhận được hỗ trợ nhanh và tốt nhất: 0909 39 29 38
Email: sales@cntech.com.vn
Panel

75UH5E

86UH5E

98UH5E

Screen Size

75 Inch

86 Inch

98 Inch

Panel Technology

IPS
IPS
IPS

Aspect Ratio

16:9
16:9
16:9

Native Resolution

3,840 x 2,160 (UHD)

3,840 x 2,160 (UHD)

3,840 x 2,160 (UHD)

Brightness(Typ., cd/m²)

500 nit

500 nit

500 nit

Contrast Ratio

1,200:1
1,200:1
1,300:1

Viewing Angle (H x V)

178 x 178
178 x 178
178 x 178

Response Time

6ms (G to G)
8ms (G to G)
8ms (G to G)

Surface Treatment (Haze)

Haze 3%
Haze 3%
Haze 1%

Life Time (Typ.)

50,000 Hrs
50,000 Hrs
50,000 Hrs

Guaranteed Operating Hours

24 Hrs
24 Hrs
24 Hrs

Orientation

Landscape & Portrait

Landscape & Portrait

Landscape & Portrait

Connectivity

Input

HDMI (3), DP, DVI-D, Audio, USB 2.0 (2)

HDMI (3), DP, DVI-D, Audio, USB 2.0 (2)

HDMI (3), DP, DVI-D, Audio, USB 2.0 (2)

Output

DP, Audio (Off/Fixed/Variable)

DP, Audio (Off/Fixed/Variable)

DP, Audio (Off/Fixed/Variable),
External Speaker (98" Only)

External Control

RS232C In/out (4 Pin Phone-Jack), RJ45 (LAN) In, IR In

RS232C In/out (4 Pin Phone-Jack), RJ45 (LAN) In, IR In

RS232C In/out (4 Pin Phone-Jack), RJ45 (LAN) In, IR In

Physical Specification

Bezel Color

Black
Black
Black

Bezel Width

14.9 mm (Even)

14.3 mm (Even)

14.9 mm (Even)

Monitor Dimension (W x H x D)

1,682.4 x 960.3 x 57.9 mm
(without Handle and Logo)

1,926.2 x 1,097.2 x 60.6 mm
(without Handle and Logo)

2,191.8 x 1,246.8 x 69.4 mm
(without Handle)

Weight (Head)

41.5 Kg

49 Kg

88 Kg

Carton Dimensions (W x H x D)

1,816 x 1,123 x 228 mm

2,073 x 1,260 x 292 mm

2,342 x 1,386 x 402 mm

Packed Weight

49.5 Kg

61.1 Kg

123 Kg

Handle

Yes

Yes

Yes

Weight (Head+Stand)

12.5 Kg

17.6 Kg

20.8 Kg

VESA™ Standard Mount Interface

600 x 400 mm

600 x 400 mm

800 x 400 mm

Environment Conditions

Operation Temperature

0°C to 40°C

0°C to 40°C

0°C to 40°C

Operation Humidity

10 % to 80 %

10 % to 80 %

10 % to 80 %

Power Consumption

Power Supply

100-240V~, 50/60Hz

100-240V~, 50/60Hz

100-240V~, 50/60Hz

Power Type

Built-In Power

Built-In Power

Built-In Power

Typ. / Max

180 W / 260W

215 W / 280W

420 W / 560W

Sound

Speaker

Built-in (10W×2)

Built-in (10W×2)

-

Standard (Certification)

Safety

IEC 60950-1 / EN 60950-1 / UL 60950-1

IEC 60950-1 / EN 60950-1 / UL 60950-1

IEC 60950-1 / EN 60950-1 / UL 60950-1

EMC

FCC Class "A" / CE / KCC

FCC Class "A" / CE / KCC

FCC Class "A" / CE / KCC

ErP / Energy Star

Yes / Yes (Energy Star 7.0)

Yes / Yes (Energy Star 7.0)

Yes / Yes (Energy Star 7.0)

Media Player Compatibility

OPS type compatible

Yes

Yes

Yes

External Media player Attatchable

Yes (MP500 / MP700)

Yes (MP500 / MP700)

(MP500 / MP700)

Accessory

Basic

Remote Controller, Power Cord, QSG,
DP Cable (1.8M), Regulation Book,
Phone to RS232C Gender

Remote Controller, Power Cord, QSG,
DP Cable (1.8M), Regulation Book,
Phone to RS232C Gender

Remote Controller, Power Cord, QSG,
IR/Light Sensor Receiver, DP Cable

Optional

Media Player, OPS Kit (KT-OPSA),
Wall Mount (LSW640A/B)

Media Player, OPS Kit (KT-OPSA),
Wall Mount (LSW640A/B)

Speaker (SP-2200)